I recently listened to one of my favorite Podcast by Rich Roll, episode 524 with special guest Doug Evans. Doug Evans literally wrote the book on sprouting which inspired me to give it a try. I set out to grow my own sprouts in our RV and ordered two things from Amazon. One was a seeding packet, specifically designed for sprouting, which entailed a mix of seeds to include Alfalfa, Broccoli and Clover seeds, and the second item I ordered were Sprouting lids with a mesh on top to fit my large-opening mason jars. Once my items from amazon arrived, I was all set to go on my little sprouting adventure, but wait!
What I haven't mentioned yet is that I wanted to do more than just grow special sprouting seeds, I wanted to compare specifically designed sprouting seeds to store bought beans, in my case I went to the local supermarket and purchased one bag of raw Garbanzo Beans since Doug mentioned in the podcast that all beans would sprout. So here we go, with my directions written down, all needed items available of mason jars, sprouting lids, seeds, beans and water was all I needed, according to Doug, so here we go!
Day Zero
Add three tbsp of sprouting seeds in a mason jar and do the same for the Garbanzo beans (read the direction of your sprouting packet as it may differ).
Add water to the jars, again look for directions on the packet or else just fill the jar half way with water.
Store the jars upright in a dry, dark place for 12 hours (The "dark" is important, we stored ours in our RV closet). You may want to consider starting this in the evening, so that the jars can sit overnight and are ready for the next step the next morning.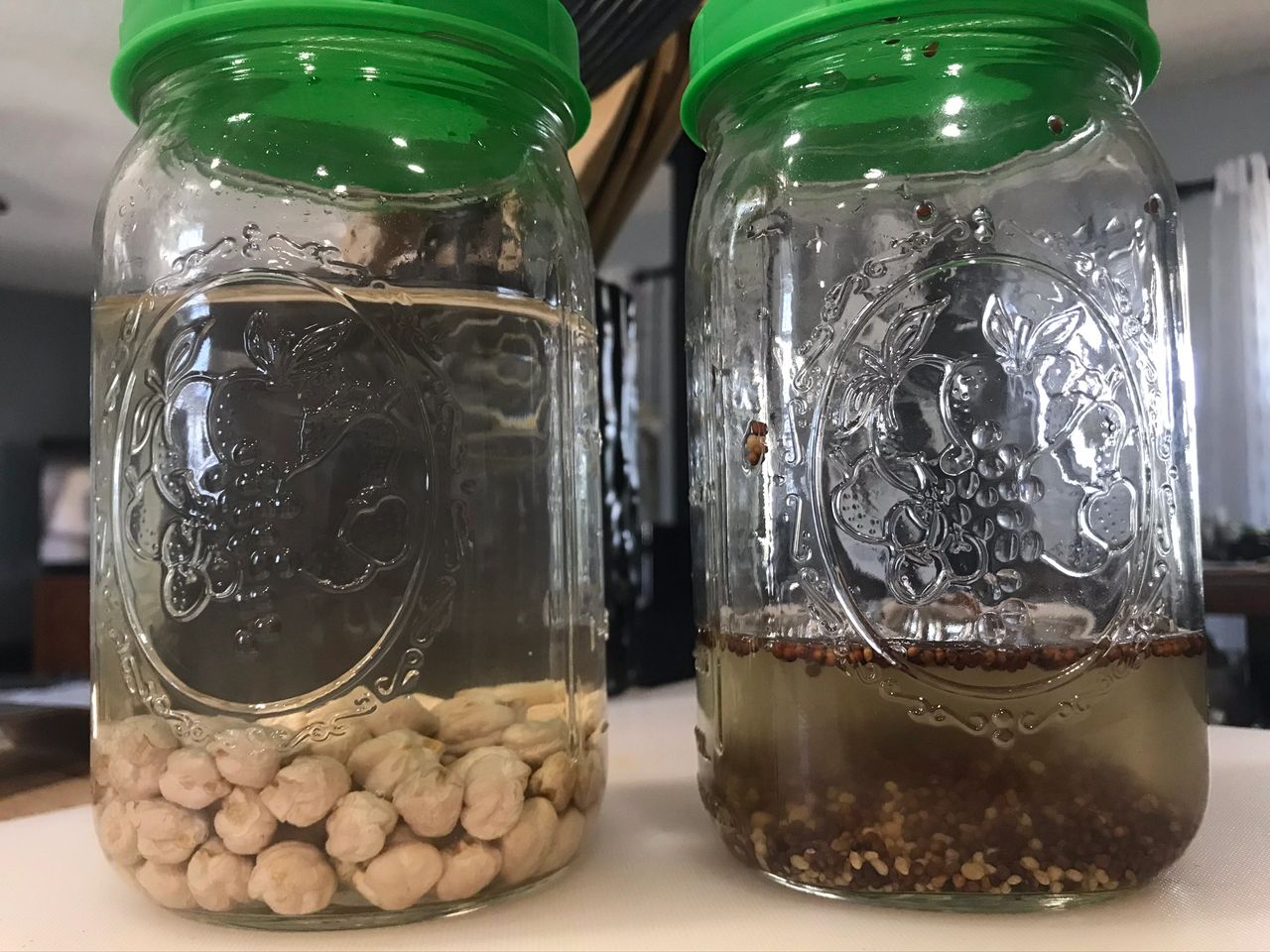 Remove the jars from the stores places (in our case, the closet) and drain the water from jar. The purchased lids came in handy here and worked great.
Now add some water to jar and rinse out the seeds and/or beans and drain them again.
After you have drained the rinsed water, keep the jar in the horizontal position and shake the jar with seeds to spread them out as evenly as possible on the bottom of the jar, and do the same for the beans.
Place the jars in it's horizontal position on a plate (I also added a paper towel to mine) and position the jars in a slight downward angle to allow any access water to drain out while being stores again.
Store the jars back in their dry and dark place.
Repeat this step twice per day, in the morning and in the afternoon.
Repeat the steps from day. Simply rinse and store in morning and once in the afternoon. You should be able to see some of the seeds and beans sprouting by now.
Repeat the rinse cycle in the morning and afternoon one more time. By now the jar of seeds will have sprouted to about 80-90%. My direction indicated that after three days the process was done and my sprouts were ready. Our beans however did not do very well and in fact started to reek to high heavens to the point where we abandoned the bean project.
The sprouting seeds were ready to be removed from jar in the morning, and I was amazed of the amount of sprouts your get from just three tbsp of seeds (you get three cups of sprouts from just three tbsp) that to me is Epic!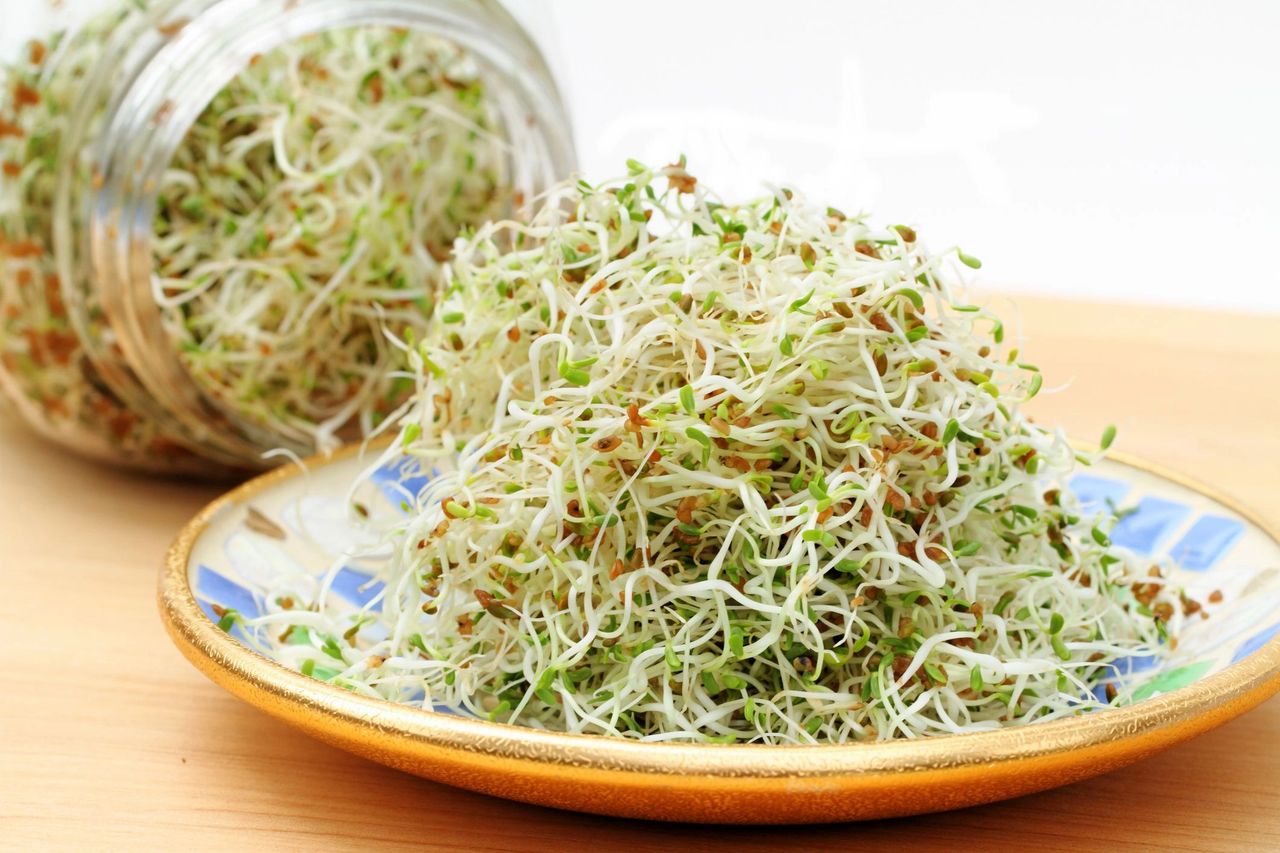 In my humble opinion, this project clearly showed to stick to special sprouting seeds, designed for sprouting and save your money on any of the store bought beans or peas. It was such a fun project and so cost friendly, that I will definitely continue on sprouting. It is so easy to do, so nutritional and healthy for you with all of its Antioxidants, Vitamins and Fiber that I now add my "home grown" sprouts to all of my meals and smoothies. HAPPY SPROUTING!
Marc with Road Notes RV https://bit.ly/38d7Z5C
Visit our Amazon Affiliate Store to find all Sprouting products you need to get started: Road Notes RV Amazon Store https://bit.ly/2BK3Iuv
We also a video on YouTube http://bit.ly/307FwtU